Training 'support' has a new meaning - CPEE supports a community in hardship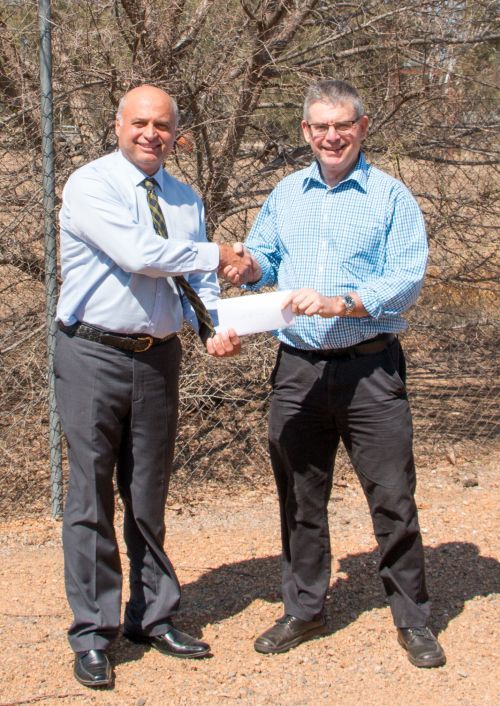 Photo Caption: Coonamble Mayor, Clr Al Karanouh, receiving a pledge of AU$1,000 for community support, from CPEE Executive Manager (professional development) Dr Kym Neaylon
The Centre for Pavement Engineering Education (CPEE) is dedicated to pavement engineering education, and because of this dedication will often provide training where it is needed, in the more remote parts of Australia far from capital cities.
Coonamble lies about 250 km east of Bourke in Central NSW and is severely affected by the ongoing drought in rural NSW. In fact, this area has not seen decent rainfall for six years.
Recently engineering staff of the Coonamble Shire Council requested a customised course on the updated 2018 release of the Austroads seal design method and assisted by guaranteeing a venue and attendees.
Attendees came from not only Coonamble, but as far afield as the Shire Councils of Bourke, Narrabri, Moree Plains, Bogan and Warrumbungle.
As part of CPEEs community engagement, we pledged a portion of the registration fees to be handed back for well-being support in the drought-affected community. Upon returning to Melbourne, and Kym describing the conditions, the staff decided to give further personal support to the initial CPEE pledge.
Coonamble's Mayor, Clr Al Karanouh, was greatly appreciative and will use the donation to support a local council initiative where the Country Women's Association and other women's groups in Coonamble are organising a 'farmers run' where they will drive out into the farming community, check on wellbeing, and provide financial assistance to those in need. CPEE was proud to support this spirited community in its ongoing hardship.
Photo Caption: grazing land denuded of both feed and cattle