Joint Winners of 2018 CPEE Excellence Award in Teaching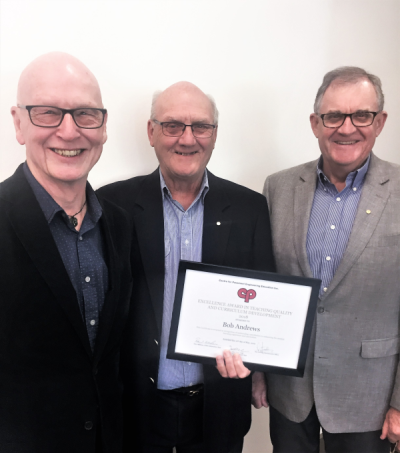 The CPEE Annual Excellence Award in Teaching gives recognition on an annual basis to academic staff (Unit Chairs) who have demonstrated excellence in teaching or related contribution to curriculum enhancement.
As CPEE (Centre for Pavement Engineering Education) is committed to programs that provide graduates with a good fit to employment requirements in the roads, pavements and asset management sector it strongly supports excellence in teaching. This Award is one way to recognise those academics who have shown an excellence in their contribution to enhancing the student learning experience during 2018.
The quality of teaching was again high and in the final analysis the two leading contenders could not be separated and therefore the 2018 Excellence Award was jointly presented to Prof Ron Ayers and Mr Bob Andrews.
The formal presentations took place at the recent meeting of the CPEE Academic Board. CPEE Council Chairman, Peter Mitchem (left) and Academic Board Chairman, John Vines OAM flank the Award joint recipient Mr Bob Andrews at the presentation. Prof Ron Ayers was unable to attend in person but was able to participate in ceremony via Skype.